On Tuesday, June 21, 2016, the Kenny Family Foundation's 20th Annual Partners' Breakfast, Golf Outing & Dinner welcomed over 400 guests for a full day of events in Wilmington and Newark. Celebrating two decades of tradition, this sprawling event draws attendees from across the Northeast.  The event extends across three country clubs; Deerfield Golf Club, Newark Country Club, and White Clay Creek Club to accommodate all of our gracious supporters.
The morning commenced with Partner's Networking Breakfast. With just under 300 guests in attendance, the casual breakfast and open schedule allowed attendees to engage with dedicated individuals from Delaware's business and philanthropic sectors. Balancing breakfast food and bloody marys, guests swayed to the talent of the students from the Boysie Lowery Jazz Residency who provided our morning entertainment compliments of our Partner, Light up the Queen Foundation.  Our attendees were welcomed with a warm message from Vice President of the Board and CEO of Delaware ShopRites, Christopher Kenny, who additionally thanked the top sponsors who supported this fundraiser.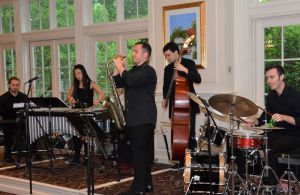 As golfers lined up for registration, our team of volunteers greeted each attendee and presented them with piles of giveaways from generous donors; bottles and golf supplies from Pioneer Athletics, snacks from Bimbo, sunscreen and bags from ShopRite and polo shirts from Aramark as a thank you for their participation. In addition, each golfer was given a $75.00 gift certificate to The KFF Mobile Pro Shop. Thanks to the work of the Deerfield club, golfers had the freedom to choose their own gift. This was the second year of the Mobile Pro Shop, which was a massive success in 2015.  A new and exciting surprise for this year's golfers was the Pro Team from Taylormade coaching and allowing golfers the option to be fit with custom clubs and a group from FootJoy with exclusive golf shoe offers.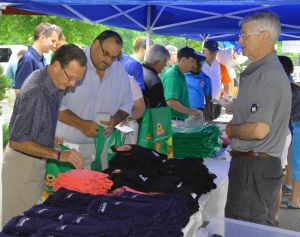 At 11 a.m., our foursomes were sent off with complimentary transportation in three deluxe coach buses from Delaware Express, which allowed participants to responsibly enjoy each of the three venues. In addition to golfers, almost 30 attendees chose to enjoy a game of tennis, R&R by the Newark Country Club pool with live acoustic music by Samantha Seider, and grilled lunch on the green presented by Hatfield, ShopRite and Bimbo.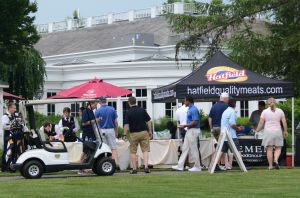 After a long day with an intermission due to Mother Nature tossing a couple of lightning strikes, our attendees freshened up and prepared themselves for a feast at the Annual Dinner at Deerfield Golf Club.  Created as a staged station dinner, guests munched on 100 pounds of colossal u-8 shrimp tails, Italian mezza platters, assorted imported cheese boards before stations opened with carved beef tenderloin, 2000 crabcakes courtesy of Henretty's, a specialty salad station and a martini cheesecake bar.  Plates piled high, guests grooved to live music from The Pearl Street Band while bidding on an exclusive assortment of raffle and auction items; hundreds of items donated from local artists, restaurants and museums including specialty art from Hope Rose and Eunice LaFate, fine jewelry and a getaway vacation.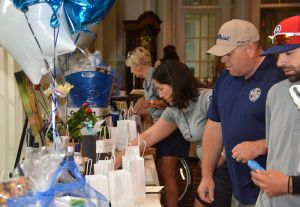 Three raffle items received the most noted interest; The Man Cave- a 55" smart TV and a pile of meat, whiskey, bourbon and manly items, Get Fit– a club membership from the YMCA, Specialized Bike from Urban Bike Project and electronic accessories and Best of Delaware– over 50 gift cards and memberships.  Special thanks to the sponsors and foundation was presented by Executive Director Heather Hook, who introduced the new 2016 mission video for KFF.  Christopher Kenny ended the evening with additional thanks to the top fundraisers for the foundation from the ShopRite stores and the winners for the raffle and auction.  Everyone held their breath and the ballroom room fell silent as the final raffles were announced, each hoping for the big prize!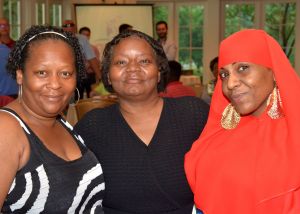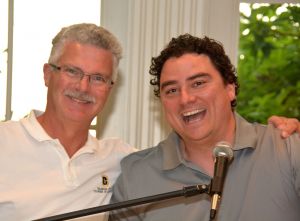 The Kenny Family Foundation is a recognized community name in the Delaware area. Bernie Kenny, owner of the Kenny Family ShopRites of Delaware, founded the community foundation in 2008.  Since its inception, the foundation's mission has focused on improving the quality of life for the citizens of New Castle County.  The Kenny Family Foundation partners with organizations who are aligned with similar goals and objectives to our mission to build a sustainable future. Our Active Partner microgrants and support programs allow accessible partnerships with quick turnaround to organizations and individuals who will wait months securing larger funding sources. Partners range large and small through the community; they provide food to the homeless, education and arts to our youth, hold local events to raise awareness and provide healthcare, and most importantly, provide a step towards a better future for New Castle County.  The Kenny Family Foundation has been able to grant an average of $250,000 annually to our partners in the community while supporting more than 1,000 local organizations and events. In 2015 the Kenny Family Foundation donated over $250,000 to New Castle County Organizations.
Funds raised from our Annual Fundraiser will be used to support our three programs:
Student Shopper: This program focuses on educating elementary students about healthy food and financial decisions while also building budgetary understanding and interpersonal communication skills. The ShopRite stores are used as a campus for real life experiences.
Partners in Training: An employment and training partnership between The Kenny Family Foundation, Wakefern Food Corporation and Goodwill which provides enrolled individuals with a five week retail and life skills training program which results in subsequent job opportunities.
Active Partner: A program providing aid to area nonprofit organizations in the form of microgrants and outreach support. Our Active Partners are true partners to KFF; they provide operations support throughout the year, support our Annual Fundraiser, join our KFFDElegate team of volunteers and raise awareness about our organization for extended community support.
Forty-seven KFFDElegate volunteers contributed hundreds of hours in the production of this event. Our thanks go to our partners from Hilltop Lutheran Neighborhood Center, The Grand Opera House, Riverfront Development Corporation, Ministry of Caring, Heart in the Game, Faithful Friends, Lewis Elementary, St Peter's Cathedral, Canaan Baptist and many others who committed a full day to ensure our event ran smoothly.  The Kenny Family Foundation is strengthened by the dedication of these community advocates who work alongside us to ensure we achieve our foundation's mission.
In 2016, the Kenny Family Foundation endeavors to raise $500,000 to directly improve the lives of those living in the Delaware community. Due to the support and our fundraiser sponsors and the ongoing efforts of our local community, we are well on our way to meeting our goal! We are thankful to all of our donors, sponsors, golfers, attendees, and volunteers.  Thank you for helping us build a better future for our neighbors in New Castle County.  Please watch our video and continue to support our work!
[gdlr_button href="http://www.kffde.org/portfolio/20th-annual-partners-breakfast-golf-outing-dinner/" target="_self" size="medium" background="#58c4e8″ color="#ffffff"]View The Full Image Gallery[/gdlr_button]